Welcome
Welcome to the Duck Mountain Nordic Club(formerly the Kamsack Ski Club). We provide 54 km of trail in the boreal forest of Duck Mtn. Provincial Park. Trail fall and shelter maintenance along with grooming are a collaboration of Park and club volunteers. The majority of the trails are tracked for classic skiing but we endeavour to add a skate lane to the Golf course and Firetower loop. We add a skate lane to the Rundle loop for the loppet. Seargent Lake and Moose lake are wide enough and skateable if you so choose. The back country trails are hilly and test one's fitness and technical skills. In addition to the Log Inn shelter at the parking lot there are 5 shelters: Jack Rabbit, Ski Hill, Rundle Lake, Tamarack and Moose Lake. The trail from Tamarack shelter, south, has recently been widened to the downhill ski chalet where you can have a lunch. Of course it is uphill home from there! Snowshoers are welcome but encouraged to stay off the groomed trails. Walkers are discouraged as the footprints leave deep holes that damage the trails for skiers. All users of the trails, both in winter and summer, are encouraged to join the club as funding is based on membership numbers. This funding allows us to maintain and make improvements to our trail system. Of course VOLUNTEERS are appreciated and guaranteed to get some extra "Trail Karma"!
Seasons Greetings!
Posted on Monday December 19th 2022


Hello and Season Greeting!


In between the cold snaps we were able to get out and do some more trail work and grooming. In addition to park help club volunteers have put in over 100 hours of work in preparing and grooming the trails. Nordic-Pulse.com is the web site that will give you up to date trail information. The trails on the map maybe shown in different colours. If you hover over the colour chart on the left you will see the time frame that the trails were last groomed. If you scroll down on the right and hover over the "i" beside a particular tr [Read More]
Posted by Cheryl Brooke
Shelter use
Posted on Saturday November 12th 2022
Overnight shelter stays.
Please sign in at the Log Inn shelter (golf course parking lot ) and write the shelter name and the date(s) you are staying.
This infomation will be valuable for those wanting to overnight and can make appropriate decisions on where to ski that has overnight availability.
Please provide accessibility to day users.
PACK IN PACK OUT
Thank you for your cooperation.
Posted by Kevin Sutton
Shelters
Posted on Tuesday April 13th 2021
Off Season Use
PACK IN PACK OUT
Please don't access the trails through the golf course in the off season.
The back country trails are not maintained but please advise the park if accessibility is significantly impeded by overgrowth..(306)542-5500
Bikes are allowed. Most shelters have some pots and pans, plates, some cutlery. Approproate disinfection should be followed.
Ski Hill and Moose Lake shelter have room for 2-3 people to sleep comfortably.
Jack Rabbit maybe 3. Jack Rabbit does not have cookware.
Rundle is the biggest. Sleeps 4 to 5
Tamarack sleeps about 4.
New solar light systems will have the ability to charge phones and Ipads.
Please contact the park (306)542-5500 if shelters are running short of firew [Read More]
Posted by Kevin Sutton
Cross-Country Ski Camping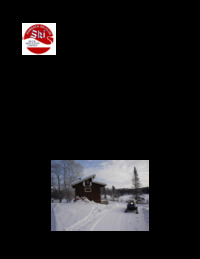 View Flyer
Posted on Tuesday January 30th 2018
Would you like to get away from the hectic pace of today's living for a few days and replace it with:
Breathing clean, fresh air and getting plenty of exercise

Viewing the beauty of a boreal forest in all its winter glory

Observing and interacting with the many birds and animals that live here in winter

Soaking up a little peace and solitude

Choosing to ski on trails that will challenge your skiing abilities

Adventure, who knows what is around the next bend!

Then my friends may we suggest that you pack your favourite easy meals and head out to one of the following shelters for a day or two... and would you believe that all of this is for FREE!
Posted on Wednesday January 3rd 2018
I would ask skiers to please move over to the side of the tracks if you have to herring bone up a hill. Skiers travel both directions on the trails. The ones going the opposite direction that you are would like those tracks to go down the hill you just climbe
Posted by Allan Bear
Donation
Posted on Friday January 13th 2023
As a user of the trails and shelters please consider a donation as we have no trail fees. This will allow us to continue to fix and upgrade the facilities to improve your experience.
eTransfer to: duckmtnnordicclub@gmail.com