Welcome
Welcome to the Duck Mountain Nordic Club(formerly the Kamsack Ski Club). We provide 54 km of trail in the boreal forest of Duck Mtn. Provincial Park. Trail fall and shelter maintenance along with grooming are a collaboration of Park and club volunteers. The majority of the trails are tracked for classic skiing but we endeavour to add a skate lane to the Golf course and Firetower loop. We add a skate lane to the Rundle loop for the loppet. Seargent Lake and Moose lake are wide enough and skateable if you so choose. The back country trails are hilly and test one's fitness and technical skills. In addition to the Log Inn shelter at the parking lot there are 5 shelters: Jack Rabbit, Ski Hill, Rundle Lake, Tamarack and Moose Lake. The trail from Tamarack shelter, south, has recently been widened to the downhill ski chalet where you can have a lunch. Of course it is uphill home from there! Snowshoers are welcome but encouraged to stay off the groomed trails. Walkers are discouraged as the footprints leave deep holes that damage the trails for skiers. All users of the trails, both in winter and summer, are encouraged to join the club as funding is based on membership numbers. This funding allows us to maintain and make improvements to our trail system. Of course VOLUNTEERS are appreciated and guaranteed to get some extra "Trail Karma"!
Pre ski season
Posted on Wednesday November 8th 2023
No we are not skiing ...yet. The trails will not be groomed for a while. When there is sufficient snow the trails will be dragged by the park using the big groomer. This distributes the snow and fills in the depressions. Then the trails are packed several times to make a good stable base which is critical to longevity of the season and day to day grooming. However, feel free to take your rock skis out for a rip.
Posted by Cheryl Brooke
Duck Mountain Nordic Club AGM
Posted on Sunday October 15th 2023
The Duck Mountain Nordic Club will hold it's AGM on Thursday November 2nd, 7 p.m. at the Madge Lake Rec Hall. A zoom opportunity will once again be provided. An email will be sent to members including the zoom link, agenda and other details.
Posted by Cheryl Brooke
Trail Maintenance
Posted on Friday September 15th 2023
Another trail clearing day with Wayne Kondra and Brad Smorodin. A bit early but have to get it done while help is around.! Not really work when you're in the fall coloured forest! Unfortunately some shelter users have left a "stinking"mess :( We'll have some walkabouts planned later to do a littler more smaller clean up.
Posted by Cheryl Brooke
Duck Mountain Loppet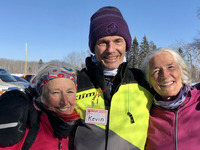 View Flyer
Posted on Sunday February 26th 2023
It is was GREAT to be back "in person" for the 42nd loppet. A notable but not forgotten absence was Bruno Lemire. After decades of organizing the event Bruno has stepped to the sidelines. At 90 years young Bruno will no doubt be opening a new chapter of engagement. My first attempt(last year I organized a virtual event) was a challenge to build on the legacy that Bruno had created.
Wenesday/Thursday saw double packing by the park. Friday Ken McNeil and myself crawled along trying to get the classic track setting pans to bite into the rock hard snow. There was great representation from all parts of the province and our neighbours from Manitoba. Some were deterred but many 'Old Timers" and "Newbies" from a "piggy backed" 2 year old to a spry 79 year old were met by a f [Read More]
Posted by Kevin Sutton
Seasons Greetings!
Posted on Monday December 19th 2022


Hello and Season Greeting!


In between the cold snaps we were able to get out and do some more trail work and grooming. In addition to park help club volunteers have put in over 100 hours of work in preparing and grooming the trails. Nordic-Pulse.com is the web site that will give you up to date trail information. The trails on the map maybe shown in different colours. If you hover over the colour chart on the left you will see the time frame that the trails were last groomed. If you scroll down on the right and hover over the "i" beside a particular tr [Read More]
Posted by Cheryl Brooke
Donation
Posted on Friday January 13th 2023
As a user of the trails and shelters please consider a donation as we have no trail fees. This will allow us to continue to fix and upgrade the facilities to improve your experience.
eTransfer to: duckmtnnordicclub@gmail.com